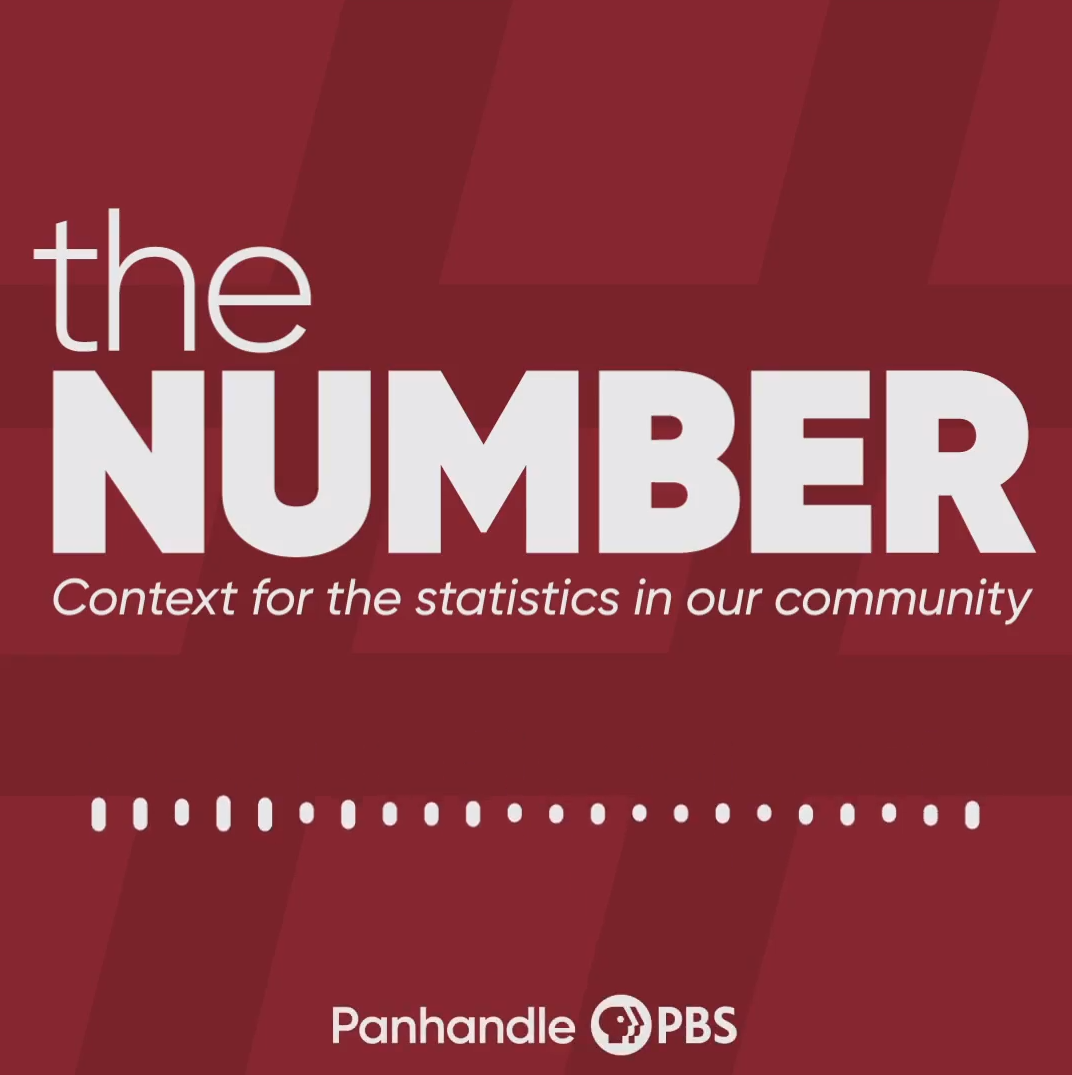 The Number
001: Rural Healthcare
- [Karen] Support for this podcast is provided by the Tecovas Foundation. From Panhandle PBS, this is 'The Number'. I'm Karen Welch. We live in a data driven world, right? There's a statistic for everything. But numbers, they're just numbers. They don't always give us the context going on behind them. Take the number 832 for example. That's how many positive COVID-19 cases Moore County had seen in early June, when I talked with Jeff Turner. Turner is CEO of Moore County hospital district.
- [Jeff T] I remember specifically one morning, a very surreal feeling as a hospital administrator.
- [Karen] The pandemic had not yet spread to the Texas panhandle.
- [Jeff T] I pulled into my parking spot there and I was listening to the radio and I was listening to reports coming out of Italy, reports coming out of New York, and you could just kind of sense, if you will, that tsunami as it began, was rolling toward us. And so we began sitting down and having those conversations and saying, "based on what we see, what can we predict and what do we think is a likely scenario for us?" And it really didn't take us long to begin to see the communities that have meat packing plants, communities that have workforces that are assembly line types of employers are having higher case counts.
- [Karen] Moore County is home to a JBS meat packing facility, where COVID-19 would spread rapidly through the plant. Most of the workers are immigrants. Many live in apartments provided by JBS. Others commute from outlying locations including Amarillo.
- [Jeff T] In Italy, we saw communities, large urban areas that live in apartment buildings and have high density of people had high case counts, then we started to see in Pennsylvania that some of the meat-packing plants in those areas were in some cases shutting down. We realized that many of the industries that we have here in Moore county that are our strength, in terms of economic diversity and the economic engine that keeps us diversified and stable, in some cases, because of the nature of the work that's performed there, may actually create a higher case count for us in this particular pandemic and so we began to prepare for that by structuring our clinical processes, looking at how are we going to handle positive patients, how was that going to affect our patient flow.
- [Karen] Testing became a priority. But tests, and more importantly, accurate ones, were hard to find.
- [Jeff T] You have to have data in order to understand your market, in order to understand your environment and we would be operating completely in the blind if we didn't have testing and so we identified early some of the quick tests that antibody tests, that were available, and they weren't necessarily approved by the FDA because at that point in time there wasn't anything approved by the FDA and that was certainly a frustration. Continued to be a frustration for a long period of time. But at least we had some data and even though it might be faulty, at least it gave us a sense of do we have COVID here and if so to what degree. We mobilized our case management, our discharge planners, our population health nurses, to begin to deal with individual patients very directly in an effort to try to aggressively manage them from home if possible, knowing that we had a very limited in-patient resource. For instance, ventilators, when this thing started we had maybe three ventilators at our hospital and obviously that's not gonna last very long. So we felt like the more we could keep people managed at home or in our out-patient setting, the better off we would be. There were several weeks during the month of April that we certainly felt the COVID surge. There were moments where that kinda got a little scary. There were moments where we saw some things that we don't normally see in a rural community hospital, certainly in the Texas panhandle.
- [Karen] Give me an example of what you're talking about.
- [Jeff T] One Monday in particular comes to mind. It was just after kind of the Spring break period of time and early April and on that particular day, our hospital had four patients come in in very severe respiratory distress. I believe two of them ended up being intubated and I believe one was placed in our ICU and ultimately expired. And I would say if you were to go back in the history of Moore county emergency response and find a day where you had literally four patients at that level of clinical severity, you'd be hard-pressed to find a day like that. That was a highly unusual day, these patients were very, very sick. And I think the reality that starts to hit home with your physicians and with your nurses and with your respiratory therapists and you know, all of your team, and there's kind of that moment of oh my goodness, this is scary.
- [Karen] When were you at your most capacity?
- [Jeff T] During kinda that middle part of April, maybe latter part of April. At one point we had several days of 11 COVID patients on the unit. Our clinics, our outpatient clinics, we had essentially shut them down. All of our specialty clinics were shut down. We had utilized our family health clinic. We started off with using the north one third of that clinic as a COVID unit and then we kinda outgrew that and so we used the south two thirds for a while and then eventually it became the full clinic was running COVID patients. We were seeing 50-60 patients a day in that particular clinic. Specialty physicians were in that clinic practicing, our general surgeon, our orthopedic surgeon, internists were all taking a turn. They literally were going home and they were studying respiratory again and they were brushing up on all that stuff they kinda left behind in medical school and they were just, in my opinion, they were just heroic. And it was very noble effort on their part and on the part of our nurses and all that really stepped up.
- [Karen] You had just a few ventilators on hand and you had to bring some more in?
- [Jeff T] Rural hospitals are a very fraternal kind of relationship with each other. We started to see those numbers really rise in Moore county, and some of my friends in the rural hospitals across the state began calling and one of them in particular said, "hey, I've got a couple of ventilators, if you need 'em, come get 'em." I'm a private pilot and so literally, I hopped in my plane one morning and flew down to his hospital and picked up some ventilators and flew back. Because of that Monday that I had told you about that was so intense, it actually, because of our utilization of ventilators on that particular day, it hit a trigger threshold with the state and so we were able to file what's called a STAR request through the various state health services and the state delivered three ventilators to us.
- [Karen] How was it to attempt to get PPE or the tests?
- [Jeff T] Boy, that's really a tale of two cities, there. PPE, we were generally in pretty good shape. Our materials managements and inventory here was in fairly good shape going into this, again, some of that stuff was predictable as we started seeing it roll through, so we started making some purchases as we could. Really, PPE for us by and large was always in a pretty good shape. I'll give our local county judge our, what we call the RAC, which is the emergency response folks down in Amarillo. The state of Texas, our local businesses, I mean, one of the interesting things about living in an agricultural community is you have a lot of people who deal with chemicals and those kinds of things and so we were receiving donations of N95 masks and protective gowns and gloves. I mean people have that stuff because they deal with chemicals in an agricultural community and so really PPE for us, when we needed it, we were able to locate it and that was never, although we had to get creative a little bit on some items, like patient gowns, at one point my wife literally was, she had taken a patient gown, she had cut it into a pattern and was making protective gowns out of shower curtains and so she literally mobilized a group of local seamstresses to make that happen, and you know, that was certainly a benefit and it helped us.
- [Karen] In Deaf Smith county, Hereford Regional Medical Center also was stocking up. Jeff Barnhart is the center's CEO.
- [Jeff B] We started watching this back in late January, early February, what was going on in China and my Chief Nursing Officer came back from a trip to Georgia and said, "look, we've got to start ordering PPE". And so we started ordering everything that we could to get us as stocked up as we could. So we had that benefit as well but we had some state resources that enabled us to get masks and you know, gloves and things like that that we were able to draw from and we probably kept about oh, three weeks at our very lowest, to we're sitting at over a month worth of supplies now. I'm not gonna sit back on that because I know, you know, there's a chance this could hit again in the fall but even beyond COVID, you know, we've got our flu in the fall as well. I was nervous as the CEO. I laid awake at night thinking, "okay, what do we have in place and what do we need?" And I tell you, I got in an airplane and I flew to Austin and picked up some of those exam masks one night that I was able to get ahold of. I got ahold of 7,000 of 'em and I rented a plane and flew to Georgetown and picked those up and got them back here.
- [Karen] And how early in the pandemic was that?
- [Jeff B] That was back in March.
- [Karen] I mean we were just starting to see cases in March.
- [Jeff B] We stopped visitors in our hospital before the state mandated it. In fact I got some calls from Austin kinda asking about what our plans were with that, but we knew that we needed to get it closed down pretty early so we've tested over 1,000 here. And what that means is we've handled 1,000 patients individually, meaning, well we either call and tell 'em, hey, you know, you tested positive to this or you're negative but we're still seeing symptoms so we need to continue to talk to you but we need you to stay home.
- [Karen] It's hard to imagine how far people have to go in some places to get healthcare. We still have quite a few rural hospitals in the Texas panhandle. But we've experiences closures in the past.
- [Jeff B] We have, you know years ago, Memphis closed. They lost their hospital there. I think we've been pretty fortunate in the Texas Panhandle but I can't say that Texas has fared real well in that, we've had our share of hospital closures and unfortunately, I'm afraid the days of a hospital every 30 miles are gonna come to an end in the future.
- [Karen] You really believe that?
- [Jeff B] I do, I'm concerned about that. Between the rising cost in insurance reimbursements and you know, Medicaid and things like that, you know, we have to have money to survive.
- [Karen] The hospital at Memphis closed in 2002. Four years earlier, a hospital at Canyon shut its doors. John Henderson is President and the CEO of the Texas Organization of Rural and Community Hospitals.
- [John] Yeah, the picture prior to COVID was challenges and vulnerability for rural Texas hospitals. We actually count 27 rural Texas hospital closures since 2010, which is double any other state during the same time period. I think Tennessee's had 11 or 12. Part of that's because Texas is just really big and we have more rural hospitals than any other state but we remind people that rural hospitals have struggled prior to the pandemic. Most of those 27 I referenced are concentrated in the east and south east Texas. A national study by the Chartis group actually listed 70 additional rural Texas hospitals that they deemed highly vulnerable because they shared the same financial characteristics with those who had already closed and showed that 44% of rural hospitals nationally have negative operating margins. It's hard to make that work.
- [Karen] What's causing the closures? What are those characteristics?
- [John] We call it death by 1,000 paper cuts. It's not just one thing but rural populations generally, the demographics are problematic, you're generally treating an older, poorer, sicker, less insured population with more comorbidities and health conditions. So you're talking about Medicare, predominately, but also Medicaid and the uninsured. And just not enough commercially insured patients to offset those governmental payment sources and unfunded patients.
- [Karen] How much of that has to do with the decision to not expand Medicaid?
- [John] That's a big one. You know, Texas leads the country in percent uninsured. I think there are about, well there were about 4 million uninsured Texans before the crisis. Now I'm reading that as many as another million lost their connection to employer-provided healthcare coverage, so now we're talking about 5 million Texans with no insurance in a state of 29 million people.
- [Karen] A recent analysis by the Episcopal Health Foundation in Texas warns of an impending crisis as the pandemic and economic downturn continue. But without state policy changes, the analysis said many could lose that coverage in 2021. The report estimates that beginning in January, more than a million Texans could fall into a coverage gap, created because Texas has not expanded Medicaid. Elena Marks is President and CEO of the Episcopal Health Foundation.
- [Elena] In this country, employer-sponsored health insurance is the major way that people get health insurance and when people start losing jobs, it's not only the job that's lost but it's often the health insurance that came with the job and it's not just that person who lost their health insurance, but if they have a spouse or children who are dependents of theirs and also covered by the health insurance, then that one job loss can translate into many people actually losing their health insurance. After the ACA was passed, the law was challenged and through the court system, ultimately the US Supreme Court upheld the ACA, except that it said that the Medicaid expansion, the Medicaid provisions were optional for states. And that meant that the lowest income people, the people between zero and 100% of the federal poverty level could only get Medicaid if their states chose to expand Medicaid. And in Texas, we are one of fourteen states that did not make that choice and so what that means is that the only people who are eligible for Medicaid in Texas are the traditional populations, which are basically poor kids, 75% of the people on Medicaid or more are poor kids, pregnant women, and then disabled people. Lot of nursing home expenses are paid for through Medicaid. That's what traditional Medicaid has offered and so what happened in Texas without the expansion, it meant that people who were adults and not pregnant and not disabled were essentially left on their own. They didn't make enough money to earn the discounts or tax credits under the ACA marketplace plan because they're below 100% of the poverty level. But because of no Medicaid expansion, they're simply in what everyone has come to call the coverage gap. And so when we looked at the data, just on the people who've lost their jobs in those first two months, what we learned was that some of them are actually eligible for Medicaid today and that's probably because some of them are the kids who are dependents of employed people and poor kids are eligible for Medicaid and so through Medicaid those kids could get covered right now even if they've lost their employer-sponsored insurance. Another group of people, a substantial group of people, are eligible right now for subsidies in the marketplace, about 530,000 Texans. And for those people, they have to go to healthcare dot gov or they can work through a private broker and they are eligible to get a private individual insurance plan through the dozens of companies that are offering plans in the state and they get a credit that makes it affordable to them. And then we looked at the fact that when 2021 rolls around, what would happen to those same people and what we discovered was that in 2021, they might still be eligible for Medicaid but the people that would be eligible for the subsided ACA tax credits would decline substantially and the reason for that is if they remain unemployed, they won't make enough money to qualify for the ACA subsidies so they will fall into the coverage gap. In 2020, they're making enough money because they worked part of the year, they're getting unemployment insurance, but unless they're re-employed or unemployment insurance continues at a significant rate, they will not make enough money to be eligible for ACA subsidies and they'll make too much money to be eligible for Medicaid and so they will fall into the coverage gap. And what that means is that the number of people in the coverage gap, at the beginning of 2020 we had about 760,000 Texans in the coverage gap. That number's gonna increase by 50% to more than 1.1 million people in early 2021 and that's just based on the people who lost jobs in the first two months of COVID. And so we're increasingly facing dire consequences because of Texas's failure to expand Medicaid.
- [Karen] What is the solution?
- [Elena] Well, there are two solutions. One is for those people who are currently and will remain eligible for marketplace subsided coverage, we need to do a much better job of outreach and engagement and letting those people know that those plans are available to them and here's how you enroll. Going forward, the only solution to the coverage gap is for Texas to either expand Medicaid as offered in the Affordable Care Act as all but thirteen other states have done, or come up with some other kind of program that will allow these people access to affordable healthcare, whether it's through insurance or some other way. The economics of Medicaid expansion are actually quite compelling. There's a lot of data that shows that Medicaid expansion actually can benefit the state budget, can also benefit the local budget, benefits the healthcare system because it reduces the amount of uncompensated care. And to me, most importantly, improves the health outcomes of the people who are covered. There is a lot of data that shows that people who are on Medicaid have better health outcomes than people who are uninsured.
- [Karen] The focus on Medicaid is misguided, according to David Balat. Balat directs the Right On Healthcare initiative at the Texas Public Policy Foundation.
- [David] Well Medicaid in Texas is currently functioning as it was intended for the vulnerable, primarily women, children, the elderly and the disabled. So that's where we are as a state and there are, I believe, fourteen others or fourteen in total that have not expanded Medicaid.
- [Karen] What would expansion mean for Texas?
- [David] Well, what it would mean is we would exacerbate the current system that really does not do what it should be doing for those for whom the program was intended. We have those that are disabled that are on waiting lists to get access that they need for very intensive services. We have a large percentage of those that are eligible for Medicaid that are not taking Medicaid and presumably it's because we don't have enough physicians in Texas that are accepting Medicaid as a payer. So we have a system that is... Not as robust as it should be for the people that are the most vulnerable in this state and I believe that that is a lesson that has been learned from many of the states that did expand. You've seen people, there's been a net decrease in the number of people that are expanding in Medicaid in the expansion states. You're seeing greater mortality in the expansion states so in some cases it's actually been more harmful.
- [Karen] Talk a little bit about the doctors not accepting Medicaid. Why do we have that issue?
- [David] Well, you know, I don't know if you know my background, I was a former hospital CEO and healthcare executive for nearly 20 years and I've spent a lot of time in doctor's offices and in waiting rooms, seeing what the plight of the patients that have Medicaid and all the other insurance products for that matter. And the administrative burden associated with Medicaid is just, it's quite ridiculous to be quite honest. The hoops that the patients have to go through to get the medication they need and to get to the specialist that they may need. To get into a primary care physician is a challenge. To find a specialist, if needed, is an even larger challenge. And you know, these are folks that have difficulty getting transportation, you know, they have children to care for. Taking four hours out of the day to sit in a waiting room, waiting for a doctor, or a specialist is just not something they can do and that's why, even in the state, well particularly in the states that expanded Medicaid, ER admissions have sky rocketed and so people are using the emergency room as their doctors office and that is just, it's not only expensive but it's dangerous because you don't want the relatively healthy people sitting in an emergency room where they can get even sicker.
- [Karen] Haven't we already had that problem with people using the emergency room as their primary?
- [David] Yes, but it's being exacerbated. It's continuing to increase. And you know, I think we had problems for a long time in healthcare, I've seen a lot of them. And they've become worse and worse because we're focusing on the wrong things. We're looking to, we look to focus on health insurance and health coverage. When we hear politicians talk about healthcare in DC or wherever, they're never really talking about healthcare, they're talking about health insurance. And where we're missing the boat is we need to focus on what Americans care most about which is making healthcare affordable. And so the solutions of actual care is where we should be putting our focus and not on health insurance because that's only benefited health insurance companies, hospitals and politicians.
- [Karen] So you believe if we focus on healthcare and reducing those costs then the insurance situation will sort of resolve itself?
- [David] I believe that people will have, that there will be greater access if there is more affordability. You know, people always think that there's either Medicaid or being uninsured and without care and that's just not the case. You know, the short term plans that have been discussed over the last few years, they were designed specifically for these types of situations. Not only those, association health plans, they provide the advantages of employer-sponsored covers without being tied to an employer so that they can be more affordable. The sharing ministry's a popular option as well as cost-sharing models that may or may not have pre-existing condition exemptions. If care is important, there's also direct primary care and other direct care models. Here in Texas, we've got a good number of them and they're growing. And they've actually flourished during the time of Covid because people are seeing the real benefit at an affordable rate.
- [Karen] Expanding Medicaid alone is not the answer, according to Turner in Moore county.
- [Jeff T] Texas has the largest uninsured population in the United States and so on one level, you know, of course we would like to see patients with a greater degree of being insured. But the other side of that coin is having insurance doesn't mean that it's good insurance and it doesn't mean that it's necessarily good for hospitals, in fact, you can make a case that imposing a premium on a patient who already is fairly unable to make that premium payment actually reduces their disposable income so that when they, and yet they have a very high deductible and so when they come into the hospital and they need something, they're actually less prepared to pay for those services and their insurance doesn't actually cover anything because the deductibles are so high. So insurance doesn't equal care. So on some levels, I would say, you know, having greater access, and whether that's Medicaid expansion or some other market-driven kinds of insurance, on some levels you say that's a good thing, on the other hand that doesn't necessarily equate to payment because one of the things that's also true is Texas is one of the lowest paying Medicaid states in the country. So, you know, if you ask me, giving lots of people Medicaid, I don't know if that really improves my situation much at all. Yes, they're insured, but Medicaid doesn't pay very well so we actually lose money on almost every Medicaid patient that we treat so I don't necessarily see that program in and of itself being the solution, although if you could get proper funding to the program, you could make an argument that that would help. But not at current, if all you do is continue to pay at current Texas Medicaid payment levels, that really doesn't help us much.
- [Karen] John Henderson at the Rural Hospitals group adds another layer to the complex question.
- [John] You know, my frustration, frankly, is that Texans pay federal income taxes to expand Medicaid in other states. And leave literally billions of dollars on the table that could cover the working poor here. The argument against is more political, you know. We're genetically pre-disposed against Washington knows best and one size fits all and Obamacare here in Texas so you know, the politics haven't matched the federal funding. And so, not only have we not done it, I don't see us doing it in the near term.
- [Karen] And how will that affect, continue to affect rural hospitals?
- [John] Just more and more pressure. 70% of rural hospital closures nationally have been in non-expansion states. Most of these rural communities have hospital districts with the authority to tax and the line share of that tax revenue goes toward charity care. So to me, the burden falls on property owners in Texas.
- [Karen] What does the picture look like with COVID involved?
- [John] Initially it was worse. Because we literally ground to a halt intentionally because that was the best thing for Texas communities and I was worried when I talked to rural hospital CEOs that said 50% or more of their revenue is tied to elective procedures and surgeries. So I was worried about another round of hospital closures as recently as March. The good news is rural hospitals received federal stimulus funding, aimed directly at rural hospitals and clinics in April and that was very helpful.
- [Karen] I asked Turner how the pandemic is affecting the bottom line at Moore county hospital district.
- [Jeff T] That is a story that's still developing. It's a very weird situation right now because the government has written some really big checks to hospitals in order to keep us solvent and so right now if you were to look at my particular hospital, and I'll quote some numbers here, but our cash position's probably better than it's ever been because we've received significant stimulus and subsidies from the government. But by the same token, if you look at my April financial performance, you would see that my gross revenues were off 2 and a half million dollars. So while my cash position is good, my receivable position is declining significantly and there's usually a 60 to 90 day delay between services rendered and the cash coming in being collected so what that means is while my cash position is good right now, that cash position's gonna have to hold for the next 60 to 90 days when my revenue stream bottoms out and I go into essentially a real drought. So you know, I might say to you ask me in August and September and I'll tell you how I feel. Right now, I'm concerned. I understand and I was on a call earlier today, looks like there may be some more stimulus coming. That certainly would be helpful. And we'll just have to see. We are trying our best to return to some semblance of normal operation here during the month of June that was an impossibility in May but in June, we're trying to get some things back to normal. We're not gonna be completely successful, there's just some things that COVID won't allow us to do in a normal posture but June will be better for us, operationally speaking, than May was. And then we're just gonna have to grit our teeth and see how we do through, say, the month of September.
- [Karen] Hereford regional medical center also is feeling the impact of having outpatient and other services shut down for a period.
- [Jeff B] We're of course down like everybody else. Year to date, we're probably, oh gosh, we're not off a million dollars, but we're around $800,000 range. Fortunately, we applied for and received a payroll protection loan which has helped us a lot. And then the government has provided some supplemental money as well to help us. The challenge for us in Deaf Smith county is we do have a substantial amount of self pay in this county. That is a patient who has no funding source. So they don't have any health insurance, they're not on Medicaid for whatever reason and have no financial ability to pay and so we do, we have to look for the tax payer for that or try to make that up in other ways and of course, you know, we were concerned about about our cost for providing care for Covid 19 but we did receive some help with that so I think, fortunately, we fared out a lot better than I thought we were going to.
- [Karen] Looking to the industry as a whole, what do you see is the biggest headwind?
- [Jeff B] I think for us, obviously we're gonna recover from this COVID-19, I think that we'll move on from it. I don't think it'll ever go away or anything like that but I think that we're going to have to continually reinvent ourself. You know, healthcare's changing. The days of heads in beds, you know, the industry's moving away from that and so we've got to continue to work to be relevant to provide the kind of care that insurance payers are needing and our community needs. So we're gonna work to do those kinds of things to stay relevant and keep our doors open.
- [Karen] What do you know about your impact upon the community?
- [Jeff B] Karen, we employ about 200 full and part time, then we've probably got another 50 that are what we call PRM, or those are staff that we call in when we need 'em. You know, I'm a big believer that when a hospital fails in a community, it's the beginning of the end for the community. So we have a lot of industry in here, we've got Nestle who owns businesses here, we've got several different kinds. And industry does come in and look at the healthcare system in a town so it's very important to the community.
- [Karen] According to Henderson, rural hospital closures threaten the wellbeing of many Texans. How wide a service area are some of these hospitals representing?
- [Jeff T] Oh, at least 30 miles. Probably commonly 45 miles or an hour and then in parts of far west Texas it's even more than that where you literally, if you didn't have a rural hospital, you'd be going more than 100 miles to have a baby or to get routine care. For some people, when it's routine care, could live with that but it's a long way to go when you're holding your breath.
- [Karen] What do you see as the biggest threat facing some of these hospitals going forward?
- [Jeff T] The ability to adapt and innovate and implement technology solutions that I'm optimistic will help rural hospitals and communities access care in a way that they couldn't traditionally.
- [Karen] Give me an example of what you're talking about.
- [Jeff T] I didn't say telemedicine specifically because that's not the only thing but one brown spot in the COVID pandemic is that I think we've made years of progress with regard to the adoption and deployment of telehealth services. And so, you know, some day, regardless of where you live and regardless of specialty, not just for your primary care physician, but for your cardiologist or your neurologist or your, you know, those specialty care services, psych is one that I mentioned that lends itself really well to telemedicine, I think you're gonna access care through an app on your phone. And those rural hospitals that complement the services they provide with some of those technologies are gonna be the ones in my mind that survive.
- [Karen] Here again is Turner from Moore county hospital district.
- [Jeff T] You know, when I look into that lens at what's coming toward us, you know, there's going to, the state of Texas is gonna be facing a real dilemma on how to split its limited revenue and so whether you're healthcare or education or roads and bridges, you know, we're all gonna be competing for a portion of that dollar and so when we went into COVID, we had a number of rural hospitals that were financially on the ropes and many of them had closed or were on the brink of closing. And so to have a reduction in payments from Medicaid or any other services will be devastating to these hospitals but if we've learned anything from the pandemic, it's how important it is to have access to care in rural markets and these rural hospitals are vitally important to the economic vitality of the state of Texas and so it's gonna be a battle, it's gonna be a struggle but we need to keep these hospitals open in order to keep the businesses thriving that ultimately create that economic engine for the state of Texas.
- [Karen] What would the scenario have been had Moore county been one of the counties that did not have a rural hospital?
- [Jeff T] Oh my. Well, at least in the early stages, I think that would've been devastating. That care would've had to have been rendered remotely through... You know, the hospitals in Amarillo or I mean, it's 45 miles in any direction to the next nearest hospital of any size. Whether that's Dalhart or Borger or you know, Spearman, Perryton. Or Amarillo, and that's a lot of territory up here and if literally the community of Moore county had no hospital and I think last number I saw, we've had a total of 852 positive cases. Early on, those were very sick people. There's no doubt, more people would've died. I think today we've had 14 deaths, each of them regrettable, each of them tragic in its own sense but I think there would've been more. I know there would've been more.
- [Karen] From Panhandle PBS, this is "The Number". We'll be back again with another episode next week.
Local support provided by